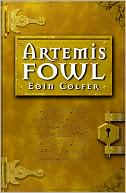 RL: 5.0 CSM: N/A Rating: G Content: Suitable for 8+
ARTEMIS FOWL is a fast paced book, perfect for kids who like their Faeries souped up with jet powered fairy-wing packs and Trolls extra-large sized. While I've only read the first book in the series, eldest son loves the rest of the books and actively hunts down anything written by Eoin Colfer – and middle son has just bought into the obsession. The reading level might challenge younger readers, but a story about a 12 year-old-evil-genius-boy will capture the imagination of many children. There is, according to my own 10-year-old-evil-genius-boy, more complexity to the plots in the later books, but the first one is a fun rocket ride and there's a reason Colfer's books are on the NY Times Bestseller list.
Artemis is so popular now, that it has spawned its own on-line game and adventure. In general, if your kids enjoy a book, they may find the author interesting as well, and most authors now have websites where they promote their books, and often have extra fun content for kids.