I love Science Fiction (SF). I love it with a passion that really defies reason, and stops just short of dressing up and being one of the wacky fun people that go to the conventions. I've read SF since I was an advanced reading child myself, and I hope to review some of the classic SF tomes in upcoming blogs.
But today Ink Spells is talking about a contemporary SF novel for the middle grade readers, The Softwire, by PJ Haarsma.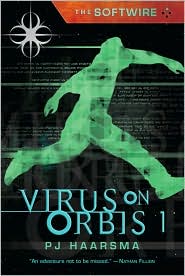 RL: 4.7 CSM: n/a Rating: PG Content: mild peril
THE SOFTWIRE, Virus on Orbis 1, is a classic SF book that has lots of aliens, spaceships and intrigue, with humans at the center of it all. It's the story about a boatload of young orphans (their parents died enroute on the seed-ship), including one special boy who is a softwire – he can talk directly to the computers. The children become slaves on a series of rotating ring-worlds around a black hole, and the mystery just starts to unfold from there. While this book is not at a challenging reading level, it is a thinking book, as the young softwire and his friends are presented with one moral dilemma after another as they try to make their way in this alien world.
The action is swift, the aliens bizarre, and story has more twists and turns than your favorite rollercoaster. Kids ages 8+ will enjoy the ride on this neo-classic SF adventure!
Check it out: PJ Haarsma has a great website about The Softwire series, including games, forums, and a promotion for Kids Need to Read, a program promoting books for school libraries.