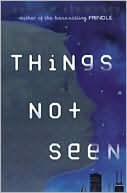 RL: 4.5 CSM: 10+ Rating: PG Content: Puppy Love
THINGS NOT SEEN by Andrew Clements is a sweet book about a boy who wakes up invisible. The reading level on this book is not likely to be challenging, even to younger readers (8-10). The protagonist is a sassy teen and there is some very innocent puppy love as he bands together with a blind girl to solve his invisibility problem. But it is a very sweet friendship kind of love, no kissing, with this 15 year old invisible boy more interested in being a Spartan Warrior than sneaking into the girl's bathroom. While not a challenging read, THINGS NOT SEEN is fine for ages 8+, but younger readers may not be as interested in it, due to the focus on the growing relationship between the invisible protagonist and his sightless girlfriend.
The growing list of great books by Andrew Clements can be found at the author's website.