Besides creativity and imagination, perhaps nothing is more important to a writer than his tools. There are no shortage of tools available to writers today. There are apps, and timers, and internet blockers, and whatever you might need to over come whatever ails you. All that said, the writer's main tool is his word processor. This is where he'll live, glaring at the dreaded blank page, slaving over every word. Here are some things you might consider when picking your word processor.


Accessibility
Depending on what your circumstances or writing habits are, you'll want to evaluate how accessible your word processor needs to be. With "the cloud," gone are the days that you have to lug a device around (laptop…thumb drive…) that carries your specific work. Sure, you can do that, but you can also log in to a free service online, like Google Docs, for example, and get to your writing from anywhere with an Internet connection, right where you left off — for free.
Here are some of today's more popular word processors and cloud services (many free): Microsoft Word (can be used in the cloud via One Drive), Google Docs (a free office suite), Apple's Pages (Apple's "Word" equivalent – now comes FREE with the purchase of a Mac or iOS device (iPad etc.), and is now available via iCloud), and Drop Box, which is used to store things online like an online locker… like your writing files.
A Tool that Meets your Needs, and Bridges your Gaps
Not all word processors are created equally. Some are as simple as text editors, without a lot of bells and whistles. These are like a simple canoe meant for floating down the writing river. Others are heavy, and bloated with every writing weapon ever invented, like a Navy Battleship ready for war. Whatever you go with, make sure that your word processor gives you what you need. As a writer, you have very specific strengths and weaknesses. Play to your strengths, and find a tool that helps you address your challenges.
Personally, I need more than a word processor. Because I'm very creative, I need something that helps me organize my creativity so that it doesn't get in my way and clog me up. So, I use a tool called, Scrivener. It's really a creative suite; my Navy Battleship. It lets me write as if it was a word processor, but it also has note cards, a virtual cork board for arranging those note cards, word count targets, labeling systems, dropbox compatibility, and so much more. It can also output a formatted ebook, which is also important to me once the writing's done.
Scrivener might not be the tool for you. Whatever tool is, though, make sure it fits your needs, and addresses your blind spots.
Start with the End in Mind
What do you want to do with your writing? Stash it away for posterity? If you're visiting Susan's site, you're probably interested in publishing, and the process that has contributed to her success. If you are going to publish ebooks, you might try a free service like Fastpencil, or Pressbooks that let you write your books online, chapter by chapter, and then when you are ready, publish them for a very small fee. (PressBooks -wow -great service.)
If you don't start with the end in mind, you'll end up like Alice, from Alice in Wonderland when she met the Cheshire Cat at a fork in the road.
"Which road do I take?" she asked.
"Where do you want to go?" responded the Cheshire Cat.
"I don't know," Alice answered.
"Then," said the Cat, "it doesn't matter."
About the Author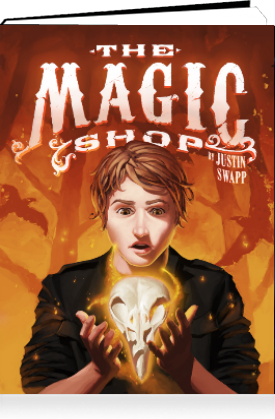 Justin was born with an active imagination on a U.S. naval base in Spain, but has spent most of his life in the shadows of the Rocky Mountains of Utah. He is bilingual, and has lived all over the world. He has four children; two boys, and two girls, and an enduring wife. He doesn't have any pets that he's aware of, but his children have been known to hide things under his bed.
In his free time Justin loves to read, write, and play games. He enjoys his close friends, and loves to make people laugh. To learn more about Justin, or his work, you can visit him at www.justinswapp.com
Justin is the author of The Magic Shop. He has also been published in several anthologies, including The Crimson Pact (Volumes 1, 2, and 5), The Memory Eater, and Short Sips: Coffee House Flash Fiction Collection 2.
Check out Justin's new novel, The Magic Shop! Amazon Apple Barnes & Noble