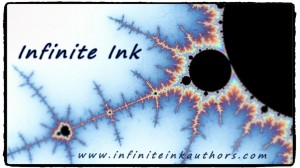 Thanks to Susan for the chance to guest post today! We are Infinite Ink—a collective of nine indie authors who write YA and NA speculative fiction—and we're here to tell you why you should think about joining (or forming) an author collective, too. Hold on, back up, you say. What is an author collective? It's a group of authors who band together to support each other in multiple ways in their quest to connect with readers. Much like Susan's own Indelibles!
Here are seven reasons to join a collective:
1. Cross-Promote – stop shouting into the wind about your own books – let your collective do it for you! : ) Of course, when others in your collective have news to share, you'll help them out, too.
2. Grow Your Readers – if your collective writes in a similar genre (recommended, but not necessary) then each author brings a pool of readers with them who may also enjoy your books. A win-win for authors and readers.
3. Be Efficient – every author has parts of the publishing process that come easily to them and parts they struggle with. Working together, you can share knowledge and split marketing efforts in a way that both makes things easier and lets you all work more efficiently.
4. Share Information – keep each other in the know, rather than trying to keep up with all things publishing on your own. Share links and resources, bounce ideas off one another, and discuss the merits and drawbacks of various aspects of the business.
5. Support – got an unfair review? Complain in private to people you can trust. Revisions taking forever? Commiserate. Need a beta reader? You've got a built in group to ask.
6. Community – if you're starting to feel like writing is a special form of solitary confinement, then a collective may be the answer. It can take the place of wine or cats in what often feels like a lonely career.
7. Fun – being part of a group is a lot more fun than going it alone, right? (If you don't feel that way, a collective may not be for you.)
As one Infinite Inkling put it: "I'm no longer an author island. I'm a guest at the best indie party in town. And the lampshades abound."
Sound good? Go find your party.
Infinite Ink is: